Electric Motor Gear Box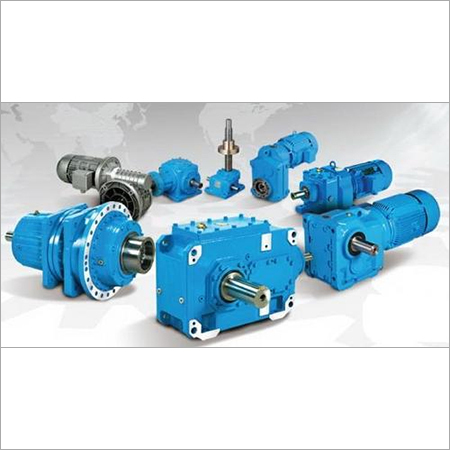 Electric Motor Gear Box
Price And Quantity
Product Specifications
2800 RPM

200-240 Volt (v)
Product Description
With our consistent efforts in this domain, we have achieved a respectable niche for manufacturing and exporting a wide array of qualitative Electric Motor Gearbox. We precisely engineer this range of electric gearbox by using optimum quality raw materials procured from the certified vendors of the industry and innovative technologies. Our offered range is highly popular for its compact construction, high durability and flawless performance. Our Electric Motor Gearbox is widely used in various industries.
Features :
Low maintenance cost
Reasonable price
Available in different specifications
Convenient to install and safe operation
Technical Details:
RANGE : 0.05 HP to 90 HP.
REDUCTION RATIO : 5:1, 10:1, 20:1, 25:1, 30:1, 35:1, 40:1, 50:1, 60:1, 70:1. Also higher ratio 100:1 to 4900:1 can be given on Double Reduction.
SPECIFICATIONS :
MATERIAL & CONSTRUCTION : I.S.S. 3734 - 1966 for worm gearing or DIN or latest ISI standard.
WORM : The worm is Solid with shaft made of high grade alloy steel so as to give hard wear resisting surface duly case hardened & super finished. The bearing & Oil seal generals are accurately, cylindrically ground to give smooth running.
WORMWHEEL : made of centrifugally cast Phosphor Bronze rim shrunk GEAR HOUSING : made of close grain graded cast iron. Large cooling fins on both sides and adequate cooling area improve efficiency.
BEARINGS : The ball or roller bearings are used in worm wheel with ample capacity so that is can take journal and thrust loads.
OIL SEAL : Best quality of oil seal are used (fanner).
| | | | | | | | | | | | | | | | | | | | | | | | | |
| --- | --- | --- | --- | --- | --- | --- | --- | --- | --- | --- | --- | --- | --- | --- | --- | --- | --- | --- | --- | --- | --- | --- | --- | --- |
| Type | A | B | C | E | F | N | S | K | K1 | h | I | I1 | m | O | P | P3 | d | I | T | U | D1 | I1 | I1 | u1 |
| 1002D II | 145 | 145 | 22 | 170 | 180 | 40 | 11.5 | 337 | 217 | 100 | 88 | 109 | 120 | 160 | 180 | | 25k6 | 60 | 27.9 | 8 | 19k6 | 40 | 21.5 | 6 |
| 1003D II | 180 | 145 | 22 | 200 | 180 | 40 | 11.5 | 369 | 249 | 100 | 88 | 111 | 120 | 160 | 180 | | 25k6 | 60 | 27.9 | 8 | 19k6 | 40 | 21.5 | 6 |
| 1122D II | 180 | 180 | 28 | 200 | 220 | 50 | 14 | 399 | 259 | 112 | 110 | 124 | 140 | 190 | 207 | | 32k6 | 80 | 35.3 | 10 | 24k6 | 50 | 26.9 | 8 |
| 1123D II | 210 | 180 | 28 | 235 | 220 | 50 | 14 | 438 | 298 | 112 | 110 | 128 | 140 | 190 | 207 | | 32k6 | 80 | 35.3 | 10 | 24k6 | 50 | 26.9 | 8 |
| 1322D II | 205 | 180 | 30 | 240 | 250 | 56 | 18 | 466 | 316 | 132 | 142 | 124 | 150 | 220 | 242 | | 40k6 | 110 | 43.1 | 12 | 24k6 | 50 | 26.9 | 8 |
| 1323D II | 230 | 205 | 30 | 280 | 250 | 56 | 18 | 505 | 355 | 132 | 142 | 123 | 150 | 220 | 242 | | 40k6 | 110 | 43.1 | 12 | 24k6 | 50 | 26.9 | 8 |
| 1602D II | 230 | 250 | 40 | 280 | 310 | 70 | 23 | 535 | 355 | 160 | 150 | 155 | 180 | 260 | 280 | 329 | 45k6 | 110 | 53.3 | 14 | 28k6 | 60 | 30.9 | 8 |
| 1603D II | 280 | 250 | 40 | 330 | 310 | 70 | 23 | 585 | 405 | 160 | 150 | 155 | 180 | 260 | 280 | 329 | 45k6 | 110 | 53.3 | 14 | 28k6 | 60 | 30.9 | 8 |
| 1802D II | 260 | 280 | 45 | 320 | 350 | 80 | 27 | 638 | 423 | 180 | 190 | 188 | 215 | 300 | 330 | 392 | 60m6 | 140 | 64.2 | 18 | 38k6 | 80 | 41.3 | 10 |
| 1803D II | 325 | 280 | 45 | 370 | 350 | 80 | 27 | 694 | 479 | 180 | 190 | 194 | 215 | 300 | 330 | 392 | 60m6 | 140 | 64.2 | 18 | 38k6 | 80 | 41.3 | 10 |
| 2252D II | 320 | 300 | 55 | 390 | 400 | 100 | 27 | 752 | 482 | 225 | 196 | 236 | 270 | 365 | 408 | 479 | 70m6 | 140 | 74.6 | 20 | 42k6 | 110 | 45.1 | 12 |
| 2253D II | 380 | 300 | 55 | 450 | 400 | 100 | 27 | 825 | 555 | 225 | 196 | 249 | 270 | 365 | 408 | 479 | 70m6 | 140 | 74.6 | 20 | 42k6 | 110 | 45.1 | 12 |
| 2503D II | 440 | 390 | 55 | 530 | 490 | 110 | 33 | 941 | 641 | 250 | 236 | 265 | 300 | 420 | 460 | 531 | 90m6 | 180 | 95.3 | 25 | 48k6 | 110 | 51.5 | 14 |
| 2803D II | 480 | 425 | 65 | 580 | 540 | 125 | 35 | 1049 | 719 | 280 | 270 | 299 | 330 | 460 | 510 | 600 | 100m6 | 210 | 106.1 | 28 | 55m6 | 110 | 58.8 | 16 |
| | | | | | | | | | | | | | | | | | | | | |
| --- | --- | --- | --- | --- | --- | --- | --- | --- | --- | --- | --- | --- | --- | --- | --- | --- | --- | --- | --- | --- |
| Size | A | B | C | D | E | F | G | H | J | K | L | M | N | P | R | S | T | U | V | W |
| NU 1.75 | 118 | 122 | 95 | 100 | 13 | 11 | 53.5 | 44.45 | 69.05 | 167 | 120 | 120 | 240 | 111 | 57.25 | 19 | 45 | 43 | 16 | 5 |
| NU 2 | 142 | 125 | 95 | 100 | 14 | 11 | 70 | 50.8 | 83 | 203.8 | 133 | 133 | 266 | 128 | 63 | 16 | 47 | 45 | 13 | 5 |
| NU 2.25 | 148 | 130 | 114 | 105 | 15 | 11 | 68 | 57.15 | 88.85 | 212 | 142 | 142 | 284 | 128.5 | 65 | 22 | 48 | 45 | 18.5 | 6 |
| NU 2.5 | 148 | 130 | 114 | 105 | 15 | 11 | 70 | 63.5 | 88.5 | 222 | 142 | 142 | 284 | 128.5 | 65 | 22 | 48 | 45 | 18.5 | 6 |
| NU 3 | 185 | 188 | 140 | 150 | 20 | 14 | 82 | 76.2 | 114.8 | 273 | 170 | 170 | 340 | 150 | 78.5 | 25 | 55 | 50 | 21 | 8 |
| NU 3.5 | 220 | 170 | 155 | 130 | 230 | 16 | 101 | 88.9 | 113.1 | 303 | 187.5 | 210 | 397.5 | 153 | 100.5 | 30 | 55 | 50 | 26 | 8 |
| NU 4 | 250 | 203 | 178 | 160 | 25 | 16 | 110 | 101.6 | 118.4 | 330 | 207 | 220 | 427 | 212.5 | 112 | 32 | 63 | 60 | 27 | 8 |
| NU 5 | 305 | 258 | 245 | 210 | 33 | 19 | 118 | 127 | 147 | 392 | 242.5 | 262 | 504.5 | 232 | 128 | 35 | 62 | 57 | 30 | 10 |
| NU 6 | 362 | 302 | 263 | 243 | 35 | 19 | 132.5 | 152.4 | 177.1 | 462 | 287 | 307 | 594 | 254 | 133.5 | 45 | 79 | 74 | 39.5 | 9.5 |
| NU 7 | 408 | 340 | 306 | 266 | 38 | 23 | 183 | 177.8 | 173.2 | 534 | 316.5 | 343.5 | 660 | 293 | 160 | 40 | 82 | 78 | 35 | 12 |
| NU 8 | 400 | 340 | 343 | 266 | 40 | 27 | 146 | 203.2 | 224.8 | 574 | 342 | 368 | 710 | 312 | 175 | 45 | 88 | 85 | 39.5 | 14 |
| NU 9 | 490 | 344 | 390 | 282 | 40 | 27 | 154 | 228.6 | 252.4 | 635 | 375 | 401 | 776 | 325 | 180 | 50 | 95 | 92 | 44.5 | 14 |
| NU 10.5 | 590 | 430 | 432 | 330 | 50 | 33 | 172 | 236.7 | 281.3 | 720 | 450 | 475 | 925 | 352 | 200 | 60 | 115 | 110 | 53 | 18 |
| | | | | | | | | | | | | | | | | |
| --- | --- | --- | --- | --- | --- | --- | --- | --- | --- | --- | --- | --- | --- | --- | --- | --- |
| Size | X | Y | S1 | T1 | U1 | V1 | W1 | C1 | D1 | F1 | A1 | B1 | G1 | E1 | Average Net Weight Kg. | Approx. Oil capacity litres |
| NU 1.75 | | | 22 | 45 | 5 | 18.5 | 6 | 95 | 99 | 11 | 150 | 120 | 88 | 14 | 10 | 1.5 |
| NU 2 | | | 25 | 57 | 55 | 21 | 8 | 95 | 100 | 11 | 150 | 120 | 94 | 14 | 13.5 | 1.5 |
| NU 2.25 | | | 25 | 55 | 51 | 21 | 8 | 114 | 105 | 11 | 150 | 120 | 100 | 14 | 16.5 | 2.0 |
| NU 2.5 | | | 25 | 55 | 51 | 21 | 8 | 114 | 105 | 11 | 165 | 135 | 118 | 14 | 17.4 | 2.0 |
| NU 3 | M8 | M12 | 38 | 63 | 61 | 33 | 10 | 140 | 150 | 14 | 240 | 200 | 125 | 16 | 32.8 | 2.5 |
| NU 3.5 | M8 | M12 | 38 | 58 | 55 | 33 | 10 | 155 | 130 | 16 | 250 | 210 | 125 | 16 | 40.2 | 2.5 |
| NU 4 | M12 | M16 | 45 | 90 | 85 | 39.5 | 12 | 200 | 100 | 1/2 | 248 | 204 | 136 | 16 | 65.7 | 3.5 |
| NU 5 | M12 | M16 | 50 | 90 | 85 | 44.5 | 12 | 240 | 120 | 1/2 | 302 | 250 | 161 | 19 | 103.7 | 4.5 |
| NU 6 | M12 | M20 | 58 | 112 | 108 | 52 | 16 | 285 | 120 | 1/2 | 342 | 270 | 175 | 25 | 156.7 | 6.0 |
| NU 7 | M16 | M20 | 65 | 120 | 115 | 58 | 18 | 320 | 150 | 1/2 | 400 | 320 | 200 | 40 | 195.3 | 10.0 |
| NU 8 | M16 | M20 | 70 | 140 | 137 | 62.5 | 20 | 340 | 166 | M24 | 440 | 360 | 220 | 40 | 237 | 12.0 |
| NU 9 | M16 | M20 | 75 | 145 | 140 | 67.5 | 20 | 386 | 180 | M24 | 490 | 410 | 240 | 40 | 336 | 17.0 |
| NU 10.5 | M20 | M20 | 80 | 150 | 147 | 71 | 22 | 440 | 220 | M30 | 560 | 460 | 260 | 40 | 480 | 22.0 |
Trade Information
Cash in Advance (CID), Cash Advance (CA)

1000 Per Month
10-20 Days

Corrugated and Wooden Box
Western Europe, Australia, Eastern Europe, Middle East, Central America, Africa, South America, Asia, North America

All India